GOOD THINGS COME
TO THOSE WHO WAIT
In a perfect world, boating is all about enjoyment. There is no need to keep looking at skies or weather forecasts. You can live for the moment, just turn on the engine and head for the open water, if and when you start feeling like it.
With a boat that is fully capable to handle any task that is thrown at it, in all conditions, you can get close to that. Just relax and let rip when the moment calls for it. And when, even after you have already come to believe that you have experienced everything there is to experience in boating, you manage to find a boat that exceeds your wildest expectations – now that is a truly unique moment if any.
They do not come by every year, and looking for one is often a consuming, even painful task. Every spring, you get that same itch as the days start getting warmer. Your dream boat fantasy awakens, again. A boat that genuinely reflects your personality, a mirror image of you and your perfect world. The expectations run high, and time after time you end up at the mercy of bitter disappointment. You settle for one that you know, from the very beginning, is not quite up to the task.
There is no patience to wait for the right one. You wind up thinking that this is as good as it can get, when you should assume a broader perspective and think also outside of the box. You should throw yourself in the hands of the perfect world, where anything is possible. That is by no means easy for a grown-up. But if it were… well, then anyone could pull it through.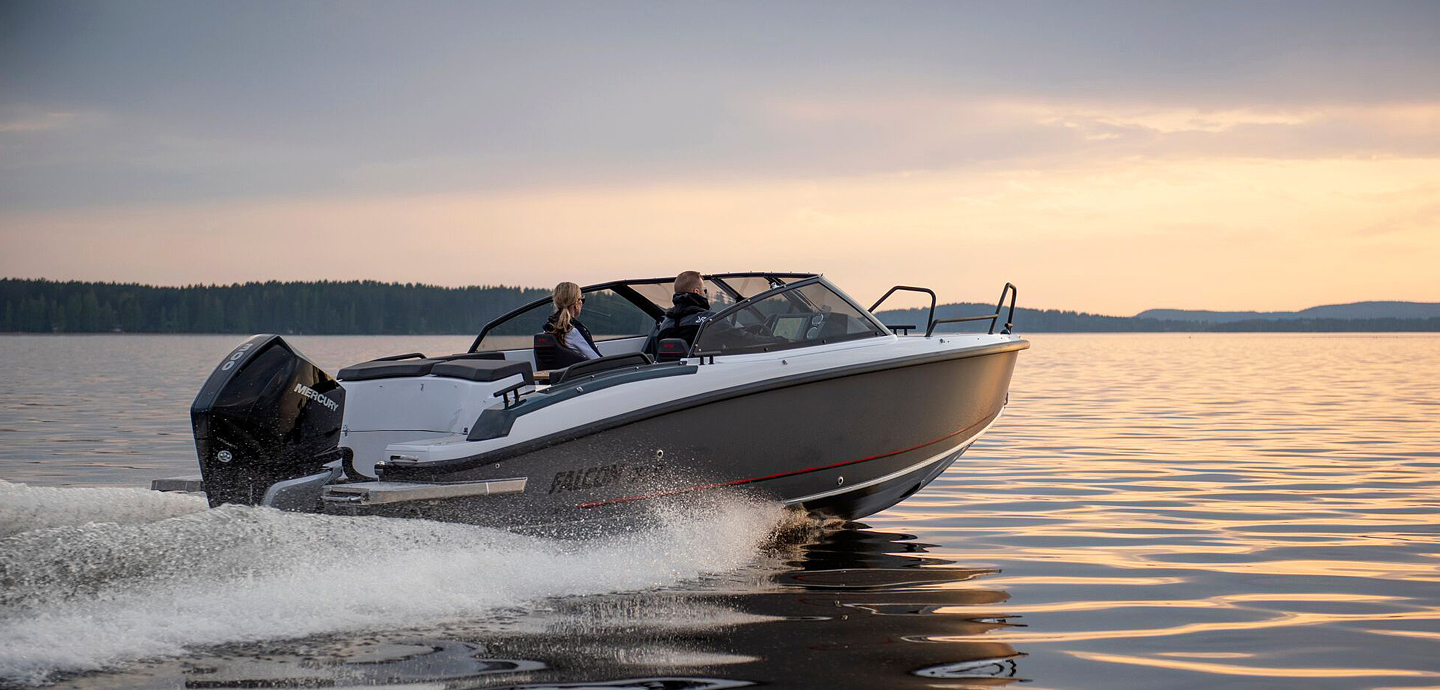 In this time and day, in this situation of life, you expect a boat to be able to take you to day cruises, but also to do that last-minute shopping on the opposite shore. When there is a renovation project at the cabin, or construction of a new one, that's when a boat can really show its true colours. The kids want to drive around, bathe in the sun, swim and water ski. And let's remember fishing – the choice of every generation.
With so many things on the wish list, there is every reason to turn to an experienced boat manufacturer that thoroughly knows his business. A comprehensive understanding of boaters' needs and desires takes a sufficient amount oy both years and miles.
Let's think about this, solely from the perspective of opportunities and benefits. What do I really, deep down want from my boat? And what would it take to make all that happen?
Questions that lead right to the Falcon.
Falcon's boat range sounds just about too good to be true. Just the idea of putting everything one could hope for to one stylish package. That is, by no means, an easy task.
Falcon has succeeded in the challenge in front of which all the others have failed. Obviously, that did not happen automatically. Plenty of theoretical approach has been combined with practical issues, opinions have been analyzed and shared. The outcome speaks for itself.
The all new Falcon. Bella-Veneet Oy, the real trailblazer in glass fibre boats that has developed brands such as Aquador, Bella and Flipper – all of which have contributed to lifting the modern boating experience to new heights. Add the comprehensive outboard motor knowledge from Mercury and the joint solutions these two have put together. Even the most demanding boating requirements have been thoroughly attended.
And how about that hull. Made of the best 5083 aluminium. Containing only the best technical materials and solutions. Bella-Veneet Oy and Campnou Oy have combined over 40-year-long knowhow of glass fibre boat manufacturing with the best Finnish aluminium hull expertise.
The new Falcon range takes your breath away.
A collection of stylish, powerful Bow Rider day cruisers which smoothly adapt to a surprising wide variety of use. The same boat operates conveniently in both connection and cruise purposes, as well as for leisure, water sports, fishing and sun bathing. The sturdy Falcons have excellent handling properties and feel at home also when there is heavy duty work to be dealt with.
It certainly took a while before an ideal boat came across. But then again, good things come to those who wait.